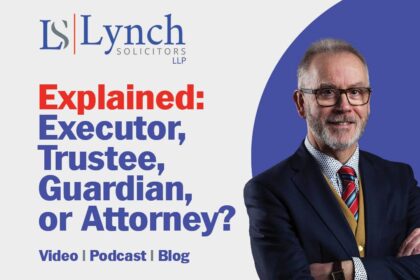 The role of Executors, Guardians & Trustees Explained
What happens to your assets when you die? Who manages them? Who passes them on to the people that you have listed in your Will? We answer those questions in the blog, podcast, and video below. We explain the role of the executors, guardians, and trustees.
When you die your assets are frozen and a legal mechanism is required to allow someone to unfreeze these assets and manage the estate you leave behind.
On your death property transfers by law to this person who must manage the assets and pass them on to those entitled.
A Will is the document that deals with how this happens.
If, before you pass away, you lose the ability to manage your affairs you can appoint someone to do so on your behalf .
An Enduring Power of Attorny is the document that deals with how this happens.
There are different terms for the different people you nominate to look after you – generally called your 'personal representatives.'
Executors are the people you nominate in your Will to carry out your wishes.
Guardians are the day to day carers of minor children., nominated by you in your Will?
Trustees are the financial managers of your assets, again nominated by you in your Will?
Attorneys are people who you nominated to look after you if you are no longer able to make key decisions about your life.
Video: The Role of the Executor
What is an Executor?
Your possessions [known as your 'estate'] go to nominated persons called 'personal representatives'. These are Executors where you have made a Will or Administrators, if you have not made a Will.
Executors are responsible for the payment of funeral and other expenses. They pay your debts and liabilities. They then distribute the rest to those entitled [called 'beneficiaries' ] under the terms of your Will.
If you die without making a Will [called 'intestacy'] the estate is distributed under rules set down in the Succession Act 1965.
You can appoint the personal representatives [ the 'testator '] in your Will, in which case they are called Executors.
They may be appointed by the Court in cases of no Will ['intestacy'] or where the Executor has died, in which case they are called in Administrators.
The qualities required of an Executor are similar in many respects to those of Trustees. They are usually appointed because of their honesty, probity and business acumen.
There is no minimum number but prudence and convenience dictate the appointment of more than one Executor.
Who can be an Executor?
You are entitled to appoint whoever you want to be as Executor.
However, practical problems would arise if you appoint a minor or someone who suffers from some legal disability.
Where a minor is sole Executor, administration will be granted to the Guardian (usually their parent) until they come of age.
If a person appointed as an Executor suffers from a mental or physical infirmity their Attorney or Committee (a Court nominated person) may act.
What are an Executors duties?
The primary duties of Executors are to administer and distribute your estate.
They must gather in and protect your assets.
Once this is done, they will be in a position to establish the solvency of the estate.
In an insolvency administration, the order of application of the assets to the payment of debts will depend on the priority of the creditors claims.
After the payment of debts and where there is a surviving spouse the legal rights will have to be next discharged out of the estate.
Once all debts, liabilities and legal right have been discharged the Executors are in a position to discharge their primary duty. This is to distribute the estate amongst the beneficiaries. This has to be done as directed by the Will.
What Powers do Executors Have?
The Executors are given powers under the Succession Act:
Give a beneficiary or creditor an asset to satisfy their share in the estate [called 'appropriation']. – a common example is giving the family home and contents to a spouse.
Sell or convert assets of the estate to pay debts and beneficiaries.
Be trustees, where none are appointed, for a minor.
Lease lands and premises.
Raise money by way of mortgage or charge for the payment of expenses debts and liabilities.
Compromise or settle any debt, account or claim on the estate.
The Executors may get extra powers under the Will:
to appropriate without serving notices or getting consents.
to invest and to change investments freely and to invest in the unsecured interest-free loans or other non-income producing assets including property for occupation or use by a beneficiary.
to buy an asset of the estate.
In other words, as Testator you are free to restrict or limit the statutory power of Executors or give them additional powers.
Podcast: Answering Your Questions About Wills
Do you have to accept the job of Executor?
The person appointed as Executor in a Will is not obliged to accept the office, even if they agreed, at the time of the Will, to act as Executor.
They can formally refuse to act – [called a 'Renunciation'].
What can happen if someone does not do the job properly or at all?
The Executors must distribute the estate as soon as reasonably practicable after the death of the deceased.
A Beneficiary may take legal action against the Executors to do this job. However, no such legal action can be taken until after a year – called ' the Executors year'.

It is also possible to bring an action against an Executor to remove him where he is not carrying out this duty to administer the estate.
Creditors may also apply for permission to administer an estate to recover their debt.
A failure to do the job could leave a person open to being found personally liable to the beneficiaries [called an action in ' devastavit"]
This may happen in a number of ways:–
Improperly converting assets for his own use such, such as the payment of his personal debts.
Failing to exercise due care in protecting the assets of the estate, such as failing to take action against a debtor in time or delaying in paying debts causing increased costs.
Some Thoughts.
The role of an Executor is both an important decision and responsible job.
A person making a will should give due consideration to the person or persons they choose.
The person undertaking the role of Executor should be aware of their responsibilities and the extent of their function.
The person making the Will should give consideration to offering an incentive to the person appointed as Executor.
The person appointed should give consideration as to whether or not they are able to undertake the role.
We Can Help
Managing this process can be complex. We can help you with any issues relating to the role of appointing an executor, guardian or a trustee. Call us on 052 61 24344 or email: [email protected]

ATTENTION

The material contained in this article is provided for general information purposes only. We advise you to seek specific advice from us about any legal decision or course of action.